Digital Marketing Blog
Digital Marketing Case Studies, WhyTos, HowTos, Interviews, News, Events, Jobs and more...
6 Types of Email Marketing to Capture B2B Clients
About B2B(Business 2 Business) Marketing
It's easy to think of memorable campaigns of successful B2C marketing that get most attention think about Super Bowl ads. It is difficult to think B2B examples that get people talking, why is that? Perhaps it's a myth that creativity has no place in this business. But that perception is going to change by end of the post.
B2B marketing is similar to B2B in general, both connect to clients/consumers in an effort to build profitable relationships, but there are key differences especially on Digital platforms. When coming to B2B we can use industry jargon's for excellent effect. It is driven with expertise and efficiency, their purchase process tends to be  logical and rational. Highly detailed and lengthy content is required. The clients in B2B marketing sustains in longer distance, if once business is started. Hence the strategies should also be effective or at least prop up the lead into a prospect first.
Email Marketing for B2B
As we all know Email marketing is great way to keep our consumer intact. Also, rather than immediate sales, B2B Email campaigns focus on customer retention or prospecting via lead generation. For lead generation 87% of b2b marketers use email marketing and having 40 times more revenue than other social media. In terms of investment, Direct Marketing Association(DMA) found that b2b marketers are getting 40$ return for every 1$ spent.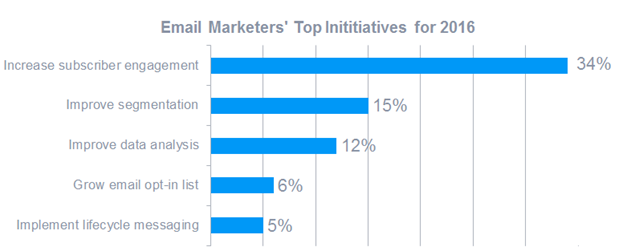 Here question arises that  how we can increase the subscriber engagement for more sales, high revenue per customer, and end of the day better profits. Because we can get subscriber engagement only through our emails and content on them. Trust is a valuable factor in b2b marketing once we gain, it means
Lower bounce rates
Lower subscribes and Higher subscribes
Increased opens leads to engagement again that leads to Deliver-ability.
To capture the clients in B2B through email channel, I compiled 6 examples below.
6 types of Email Marketing
Curated Email Content
Consumers/Clients provide their contact details by believing that they will come to know what is in it for them. It's totally our responsibility to reach their expectations and deliver them a good content. Whatever be the Industry  we can do this by curated email content, by sharing interesting you read online. This gives  you do want to maintain healthy relation and not always self-promoted. Depending on curate content we can send weekly or monthly.
Company Announcement Email
Usually, when there is a  news/worthy content about the company it is  valuable  for clients to know. According to research did by Chadwick Martin Bailey 26% of B2B subscribers sign-up because they want to know about the company. So whenever we had a news to share such as Award wins,product launches,new pricing options tell your subscribers about this . One can either tell by writing whole story in the Email or by providing link which takes subscriber to landing page.
New Article or Video Email
If a company writes any new article on its website, they can copy paste it on email or provide link of their article in the email and send to its subscribers and clients. This can be done whenever you post a new article. If a company is manufacturing some products they can make a video of how their products are manufactured and send to subscribers. So that transparency is maintained and send these type of mails monthly once to engage with audience.
Inactive Email
As we have subscribers who do not open mails, we should keep an eye on those people and have to send emails to them with content like,
What is the company  and What does it do?
How it is top in the Market?
A link which gives information about you?
Invite to start business with them for the growth of both?
These inactive mails can sent 3 times a year Ideally, but number can increase or decrease according to the company.
Campaign, Event and Webinar
Email is the tool where we can promote any of the company to its audience, whether it's a marketing campaign,Event or a webinar. We can write an email to our Clients informing them, we are going to conduct so and so campaign. By this it can get new clients.
When company want to plan an event which is time-consuming and expensive, email is a great way to invite its clients to their Events. By writing a mail regarding the type of event, venue, time and why attendees should join the event.
Webinars are best places we can reach clients to showcase our services, products and topics which we have knowledge to make session interactive and gain virtual attendees. We can inform our clients about webinars and link to join webinars through email.
Kissmetrics, Hubspot, Digital Vidya all these conduct webinars and inform their subscribers through email.
Thank you, Survey, Case Study Emails
Thank you mails can be sent through auto-responder when some action is done on company website or a deal is done. In addition to thank you, one can send links to resource page and product page. By this it makes reader or client valued.
Survey mails are difficult part we can do by google surveys which is free or paid surveys its up to company. But one thing that the survey should not be length, the email should be short and clear. This survey mails can send quarterly or two times a year. It's Important because feedback always gives improvisation.
If you want your clients to know what exactly they can benefit from your products or services case studies are best ways. Send case studies or provide a link in the email to client list and add about other client testimonials, revenue growth because they always give geniunity. Target your audience to whom you are sending mails by location,industry, job role etc
Conclusion
By the above types it is clear that Email Marketing for B2B is measurable, cost-effective channel. By Statistics email marketing for B2B has important value in creating sales leads, revenue and retaining customers. Delivering to target audience, one can build client base and establish in this competitive arena. Engaging with the clients once attained and making new clients is the main goal of B2B which easily can be appeared by email marketing with the above types of Email.