In this world of social media, your Facebook can actually define your personality and if you are using it for business purposes then it can play a major role in deciding the fate of your business. Your Facebook profile is majorly dominated by your Facebook Cover Photos, hence it should be given proper attention.
If you are looking to promote your services and business on Facebook then your Facebook cover is the very essential factor that requires your attention.
Your Facebook profile consists of multiple things like your profile picture, bio, feed and so on but the cover photos for Facebook profile is the first thing that any visitor looks at when they visit your profile. You can now decide whether you want them to get impressed or just scroll by.
The resolution of your Facebook cover is 820 x 312 when opened in computer and 640 x 360 in Smartphone.
As it is said, the first impression is the last impression and your Facebook cover grabs the initial attention of visitors on your profile hence it becomes really important.
I am not saying that just make it look nice and impressive rather put a cover that can serve the purpose for you and make an impression on visitor's mind at the same time.
If you are not sure about putting the right Facebook cover photos then here we are to help you out, we are providing you with the clue to set up a Facebook cover photo which can grab the visitor's attention.
So, without any further ado, let us go through some of the 30 best cover photos for Facebook timeline that can inspire you-
30 Best Facebook Cover Photos
1. Alignment: Uber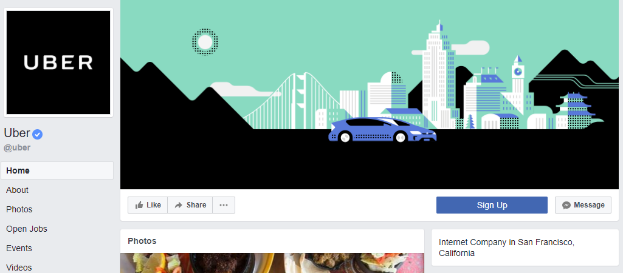 Uber's Facebook cover demonstrate the professionalism at its best. Their Facebook cover photo is so well chosen that while visiting their page you will feel like you are actually using their app or you are on their website.
This Facebook cover photo tells you that if you are using Facebook to serve the business purpose then you will have to choose your cover accordingly. This Facebook cover is filled with all the modern requirements and can effectively grab user's attention in no time.
2. Mock It Up: Printed.com
Printed.com shows how can you get attention through your Facebook cover even if you have mocked it up. If you are providing different kinds of services or you are selling various kinds of products then you can simply use this strategy in order to get the desired results.
Printed.com actually showcased their latest wedding collection on their Facebook cover and it is actually serving the purpose. In this way, you are providing visitors with a suggestion of what type of services they can expect from your side.
3. Use Call-To-Action: Squarespace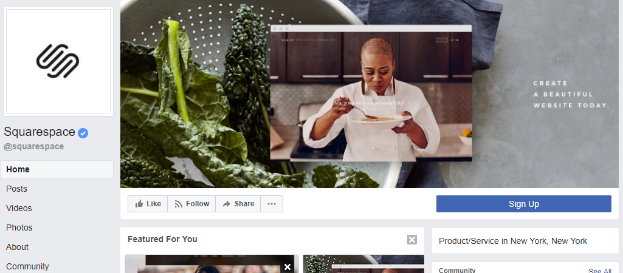 Squarespace actually lets you know how you can get the best from call to action (CTA). Their Facebook cover photo is a live example of how a simple call to action can become so helpful for your business. As you look at it for the first time it seems to answer your most obvious question, "What's in it for me?" From their Facebook cover, you can get an idea of their products and services.
4. Reveal Your Skills: Sandra Dieckmann
Your Facebook cover is actually your personal drawing board where you can effectively showcase your skills in the way you like. If you have got a creative mind then this is the best place to reveal your creative skills.
You can check the cover of Sandra Dieckmann, where she regularly updates her latest artistic work. In this way, you can actually tell the world what are your skills and what you are capable of. Don't hesitate and let the world know you as you are.
5. Make It Specific: Estee Lauder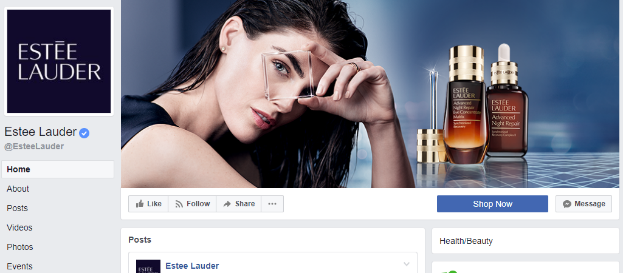 If you are promoting a specific product/service then you can make your Facebook cover according to that; you can just demonstrate your product/service as cover photos for Facebook.
Take the example of Estee Lauder; a beauty brand. You will have to decide which product/service you want to reveal and this will surely increase the sale of that specific product/service.
6. Be Direct: George&Harrison 
Sometimes being simple and direct is the best way to impress visitors on your Facebook profile. You can use Facebook cover photos to actually showcase what exactly you want to say. In this way, visitors get an idea of what they can expect more from your profile.
George&Harrison's Facebook cover photo is one of the best examples to that, where you get to know what their Facebook profile is all about.
7. Focusing On An Upcoming Event: Atlassian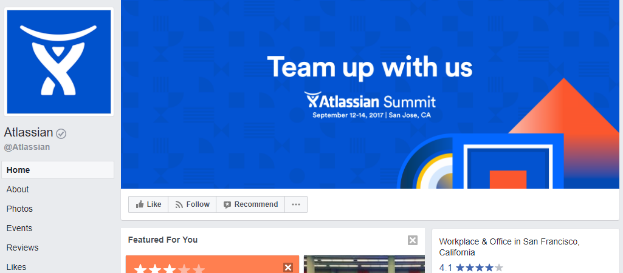 This software company is a perfect example of using Facebook cover photos to highlight an upcoming event. In this way, you don't let users forget any essential upcoming event.
By using your Facebook cover photos to highlight an upcoming event, users get an idea that you are urging them to register for the event. You can use your brand colors and message in your Facebook cover photos to keep the users engaged.
8. Sketchy: D&AD
Not every time sleek and sophisticated cover will fetch you the benefits but if your career is in graphic designing then you will have to fill your cover with sketches and colors.
If you are a graphic designer then your art starts with your paper and pen, not from your computer. The Facebook cover photos of D&AD are the perfect example of this, they have focused on the roots of creativity.
9. Create An Environment: Nutella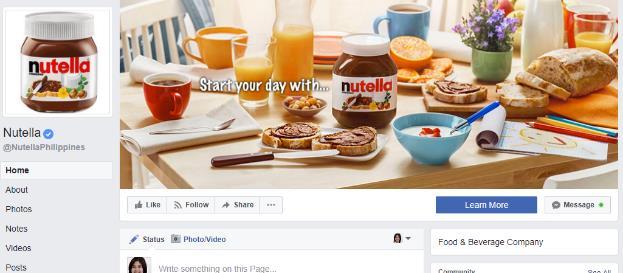 Nutella in its Facebook cover photos creates a scene for the viewer. They focus on various elements that come along to create an environment.
When you look at their Facebook cover photos you will instantly feel that Nutella is a perfect choice at breakfast. They normally use enticing images as their Facebook cover photos which sets a scene.
10. Reveal It: NoteMaker
If you are promoting your business online then you will have to reveal your products in your Facebook cover photos. This is the perfect way to let the users know what products you offer.
You can take the example of NoteMaker, one of the best cover photos for facebook which is an online stationery shop, they display some of their key products through their Facebook cover photos. Showcase your products with a nice and simple background.
11. Use Videos: Netflix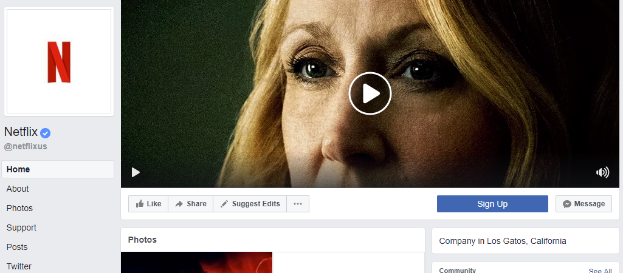 Who better than Netflix can explain the benefit of using videos in the Facebook cover? You can showcase your services/products in the form of a video through your Facebook cover.
The video is the perfect medium to entice any user as it is a direct way to entertain them and deliver any message. Facebook has recently rolled out this feature and Netflix has used it brilliantly and soon we will see more Facebook profiles with videos on their Facebook cover.
12. Focus On Quality: Natalie Foss
It is always that quality wins over quantity. You must focus on quality work rather than just emphasizing on quantity. Your Facebook cover photos can leave a great impression on the visitors hence you shouldn't compromise in terms of quality work.
Natalie Foss has exactly done the same, nothing looks messed up and quality sparkles from the cover.
12. Photography: Festival de Cannes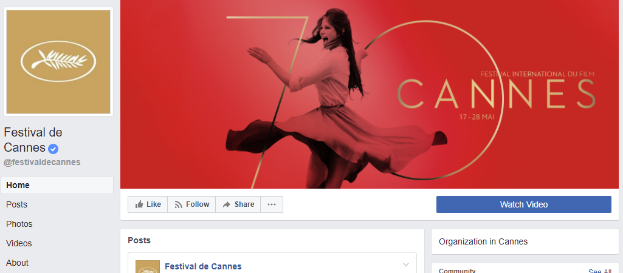 Your Facebook cover photos are the centre of attraction for users and you can fill them with great photography to enhance visitor's experience.
Festival de Cannes, one of the best cover photos for facebook is a perfect example of this where they have showcased how various elements can enhance the overall looks of your Facebook cover photos and ensure better Facebook Marketing.
13. Using Symbols: The Good Twin
Symbols are not just to be used in books and novels rather they can be well used to communicate your ideas and showcase your emotions.
Facebook cover photos of The Good Twin has portrayed a perfect example of this, they have used symbols like trees, feathers, gems, etc.
14. Show Something Trustworthy: LAMY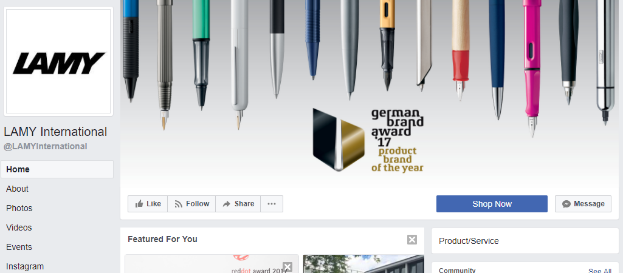 If you want to increase your credibility among the users then you can use something trustworthy as your Facebook cover photos.
You can either include any rewards that your brand has got or some certificates or anything which can be trusted. LAMY has used this feature to earn the trust of their users and you can follow the same.
15. Gradients: Slingshot
If you want to set your Facebook cover photos simple and sleek then you can use nice assembled gradients.
You can take the example of Slingshot where they have used a perfect gradient as their Facebook cover photo which looks elegant.
16. Bold Statement: RingCentral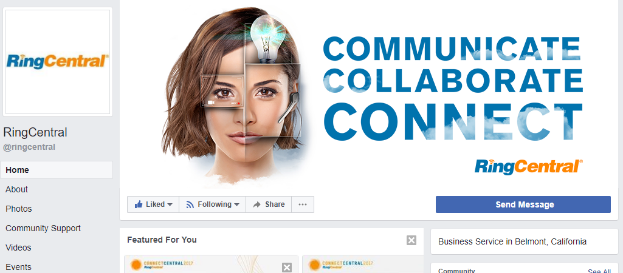 You can express a tagline through your Facebook cover. This can become one of the best cover photos for Facebook.
RingCentral has used this strategy to deliver their message in the form of bold statements through Facebook cover.
17. Showcasing Tools: Daniel Patrick Simmons
You can take the inspiration from Daniel Patrick Simmons if you are also a creative person. It is one of the best cover photos for facebook timeline. If you are love to craft your imaginations then it is best to showcase your tools through your Facebook cover photos.
Users will get more idea about your work if you will post a daily photograph of your tools and utensils.
18. Being Different: VICE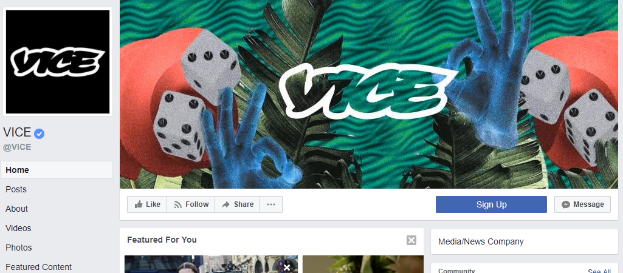 Yes, you can grab a lot of attention by being different. Facebook cover photos of VICE are a perfect example of how to stay at your hip.
Their collage portrays a different image from the herd. It is not something which is common. Stay out of the herd and create something different.
19. Revealing Your Team: Robot Food
If you are proud of your brilliant team then why not show it in your Facebook cover photos? It is rather a great idea and Robot Food has exactly done the same.
Users get to know more about your business and it increases your credibility as well.
20. Fill It With Action: Life Time Fitness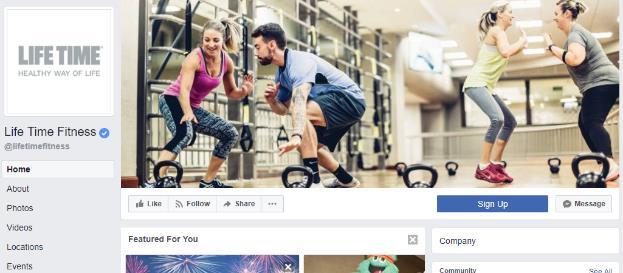 Filling your Facebook cover photos with action is rather a great idea to grab user's attention.
No one actually likes stillness and if you are into fitness related business then surely stillness is not going to help you out. Put something that encourages users.
21. Indirect Communication: Branding Magazine
Facebook cover photos are a great medium to deliver any special message. You can use these as a form of indirect communication.
Branding magazine, one of the best cover photos for facebook timeline has proven that you can actually use Facebook cover photos to tell the world what you want them to know.
22. Develop Balance: Oracle Data Cloud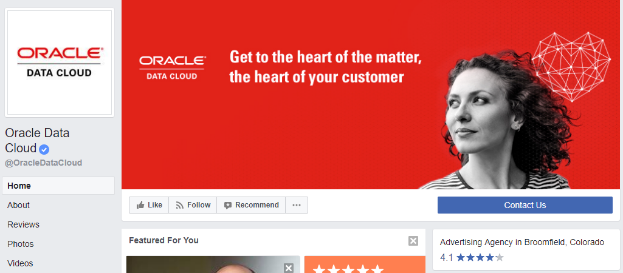 You can only succeed in life if you are able to maintain a balance, same goes with your business and your online promotion as well.
Check Facebook cover photos of Oracle Data cloud, there is something of everything and this will fetch you the success.
23. Complement: Mt.MaskingTape
Not every time colours, layouts, professional photography, etc are going to serve the purpose for you.
You can complement your brand through cover photos for Facebook timeline by using quirky patterns in your collage, colours and so on.
24. Crowdsourcing: Tim Hortons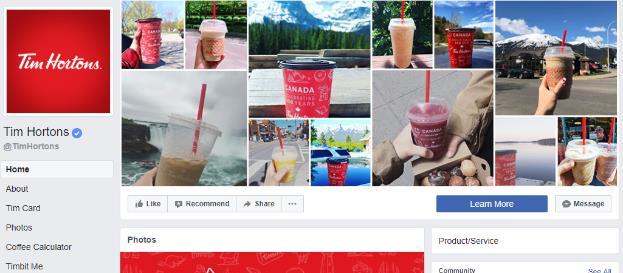 You can actually put the photos of your users using your products as your Facebook cover photos to enhance your branding.
This is also one of the most effective ways to build your credibility among the users.
25. The Texture Is Not Boring: Tanya Shatseva
Well crafted textures do look elegant when used correctly.
You can take the example of Tanya Shatseva's cover where she has used an image of mixed paint to showcase the artwork.
26. Grab Attention By Using Colors: Best Buy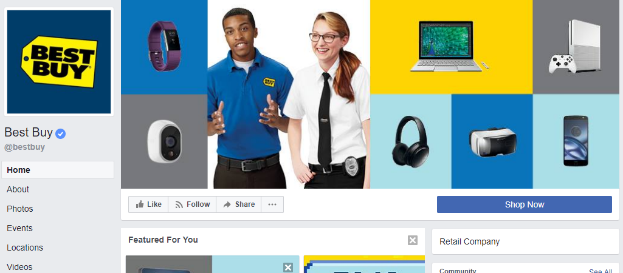 It has been proven that colours actually make you happy.
Best Buy follows the same strategy in setting up their Facebook cover photos where they use different colours to grab user's attention.
27. Avoid Over-Complication: The Jealous Curator
Don't make your Facebook cover extremely complicated as this can be detrimental for your business as well.
Everybody loves simplicity, take the example of The Jealous Curator's Facebook cover where they have portrayed simplicity.
28. Use Different Geometry: UNiDAYS
Everything on your Facebook doesn't need to be square all the time.
You must experiment with different geometrical shapes while setting up your Facebook cover photos and if you want inspiration you can check the Facebook profile of UNiDAYS.
30. Introduce- Studio AIRPORT
Since your Facebook cover is the centre of attraction, you can use it to introduce your brand.
You can provide the details of your business, products and your working through Facebook cover photos as done by Studio AIRPORT.
Wrap Up!
So, these were some of the fantastic, most befitting & best cover photos for Facebook that will for sure inspire you to understand how to adeptly use Facebook Cover Photos to set your brand tone on the web.
If you want to learn more about the right way of using Facebook to optimize your web presence and sales potential, join Certified Facebook Marketing Course. This will help you use Facebook to find new customers, increase sales, create demand for your products, and ensure conversions.
To know more about the right Facebook Cover Photos for your business, share details with us in comments.