Why do we need to use Social Media Management Tools, when we can handle social media on our own?
Well, the answer to this question is that gone were the days when Social Media was just used for connecting with family & friends.
Today, Social Media has broadened its horizon and has made it easier and more effective to interact, listen and have collaborations with people.
But, when it comes to drawing a large audience and having a huge engagement for marketing a brand, the sheer volume makes the whole process time-consuming and energy-draining.
In such cases, Social Media Management Tools provide a huge respite.
They streamline your inbound and outbound interactions and enable you to focus, listen and respond to the most relevant conversations in all the Social Media Platforms.
Through these Social Media Management tools, you can easily monitor what people are saying about your brand and use them to channelize unlimited and automated campaigns to influence the perceptions of the audiences in multiple social media platforms simultaneously.
In this post, we have compiled some of the best Social Media Tools for you to alleviate different Social Media Practices, but before going deep into that, let us understand what Social Media Management is and why businesses need it-
What is Social Media Management?
Social Media Management revolves around procedures for managing your online interactions and content channelization across different social media networks like Facebook, Twitter, Instagram, LinkedIn, Snapchat, YouTube, and Pinterest.
Not only posting updates on Social Media profiles, but it also comprises different practices and strategies to engage with your audience that can widen your reach and optimize conversions.
Few of the tasks included in Social Media Management are-
Selection of Right Social Media Management Platforms
Creation of a Social Media Strategy
Creation of a Social Media Schedule
Creation and Posting of Content on different Social Profiles
Giving responses to Fans and Followers
Interactions with prospects on Social Platforms
Creation of Social Media Advertising Campaigns
Channelizing Contests and Giveaways on Social Channels
Tracking Performance Over Time and measuring results
Why businesses need Social Media Management?
With effective Social Media Management, you can target your relevant audiences in a highly efficient and conversion-driven manner.
Social channels comprise the biggest audience base for any business, and with a well-managed campaign, you can convert those audiences into your fans, followers and customers.
Proper management lets your audiences see the relevant content from your brand on a consistent basis, and they prefer interacting and engaging with you.
This will also ensure the effective delivery of your advertising messages. In addition, Social Media offers better lead generations and conversions at comparatively lesser costs. It is top-notch in increasing brand awareness and authority.
Traditional marketing through billboards or TV ads will never be able to widen your reach as Social Channels can do. You can also measure the performance of social campaigns.
Networking on Social Media can be understood as word-of-mouth on steroids that can supercharge engagements and multi-fold revenues.
When done right social media can bring in new clients. Social Media Management builds credibility and increases business growth.
Now, the time has come to unfold the list of best Social Media Management tools for you, so let us do that-
20 Best Social Media Management Tools
1. Facebook Pages Manager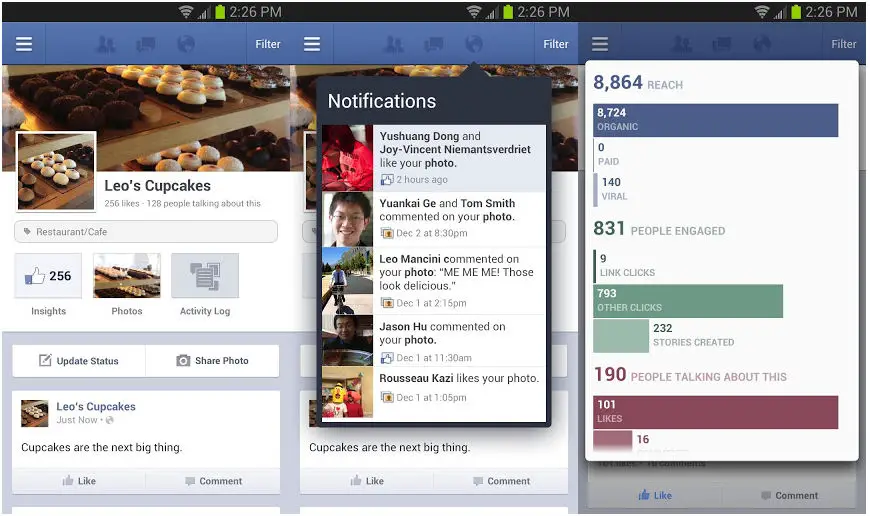 As one of the best Social Media Management Tools, Facebook Pages Manager will enable you to manage your Facebook page directly from your phone. It enables users to stay informed and respond to customers on the go. Notable benefits are-
Mobile posting that lets you post updates and manage your page directly from your phone
Messages will allow you to read and reply to messages that you receive from your customers on your Facebook page
You may link both Facebook & Instagram accounts to manage messages and comments on the Facebook post and Instagram comments in one inbox
Push notifications offer you alerts about different activities on your page, plus you can go through all your page notifications
Insights enable you to track promotions, related statistics, and other activities on your Facebook page
This is one of the social media management tools that help you if you need to manage different Facebook pages and profiles with the utmost ease. You can use it to bulk update your posts and engage your users with interactive conversations.
2. Buffer
Buffer is a social media platform that has helped brands, agencies, and individuals enjoy engagement from the right audience to their social media pages.
They offer the whole range of social media management services starting from publishing and engagement and also include analytics. The customers who have used Buffer love it for its clean and intuitive results. You can get great assistance from this one in publishing, engaging, team collaboration and analytics during social media campaigns.
For Social Media Marketers, this is one of the social media management tools that alleviate and automates the task of updating, connecting and converting potential customers on different social channels.
3. Hootsuite
Hootsuite is one of the social media management tools which provide a one-stop solution to all your social media needs, constituting one of the reasons for making it so popular among businesses. It is estimated that roughly 15 million people use it.
This one-stop social media management tool enables a person to run ads, create content and schedule it on different social media channels. In addition to these, it is also possible to measure the ROI of social media campaigns. Using Hootsuite.
Hootsuite's ability to monitor multiple accounts make bulk social media postings and scheduling possible and these are some of the reasons why 800 out of 1000 Fortune companies prefer using it
4. Sprout Social
Sprout Social is in many terms similar to Hootsuite as this also offers a one-stop solution to social media marketers.
It can perform the task of social media monitoring, scheduling, and reporting.
The point that separates SproutSocial from Hootsuite or other social media management tools is that it prefers to understand its customers so that it can serve the customer's social media needs better. It is popular among its clients for its amazing reports.
One of the best Social Media Tools for ensuring Customer Relationship Management (CRM), Sprout Social is very effective in understanding your audiences.
5. Agora Pulse
Agora Pulse offers the features of responding, scheduling and reporting in the social media channels.
In addition to these general features, which are also present in other tools, Agora Pulse allows its users to do competitor analysis.
Further, this is one of the easy to use and affordable Social Media Management Tools which also boasts the feature of running Facebook contest apps.
Choosing this one will simplify Social Media Management for you at the most affordable prices.
6. Zoho Social
For optimizing the social media presence of your business, you may rely upon Zoho Social.
It can upgrade online exercises with the help of its interactive dashboard and hence, you can oversee different social media activities on various systems at once.
It will help you plan the same number of posts as you require, analyze the most useful patterns and keywords.
It is also useful in letting your team stay associated. Finding your real audiences and targeting them with the right kind of content is forte of this tool. It will help you in connecting, engaging and converting your prospects.
7. Tweet Deck
If your social media campaigns mainly revolve around Twitter then Tweet Deck would one of the best free Social Media Management Tools for you.
You can monitor your Twitter marketing campaigns, automate advertising, and measure the performance of different twitter campaigns with great ease. It encourages you to to get custom feeds.
Different other highlights that Tweet Deck brings to the table are targeting particular clients, analyzing patterns and reacting to messages all from one dashboard.
You can likewise connect it with other platforms and gather all your social media information at one place.
8. Sendible
Sendible is one of the social media management tools, which is perfect for businesses that attend to many clients.
This is a perfect tool for agencies. Sendible provides almost all the features that other social media management tools provide, but among them, its feature that allows users to customize their dashboard is the most popular one.
It helps users to attract clients according to the personality of the brand.
Sendible also saves you a lot of time on repetitive tasks by allowing automation. Other amazing qualities that make it popular are royalty-free image search, Canva graphic editor and YouTube search.
9. Everypost
By this tool, users get a simplified social media publishing.
Everypost has a unique feature that gives you the freedom to customize social media posts with respect to the social media platform.
This is one of the social media management tools is more focused on images & videos and allows the users to pull the same from various social media sites like YouTube, Instagram, and Flickr.
Moreover, with the help of Everypost, you can easily select as well as attach any visual content.
10. Social Pilot
The social media agencies and social media marketers mainly use this Social Media tool as a marketing and scheduling tool. It contains a client management feature, which makes it highly suitable for agencies that have to deal with a large number of clients.
It is similar to other Social Media Management Tools, which provide the option for scheduling and analytics, the only exception being that the monitoring feature is not present in Social Pilot.
The thing that makes the Social Pilot very popular among its users is the fact that it fits all the above-said features into a simple dashboard.
Additionally, this also contains a social media post calendar that can be seen at a glance and re-arranged according to the requirement of the user.
social-media-management-tools, CCBot/2.0 (https://commoncrawl.org/faq/)
11. CoSchedule
This is one of the social media management tools which is more like a calendar.
Coschedule tool can be used to collaborate with team members and decide on the various aspects such as scheduling and management of social media content, post, tasks, and events.
This is ideal for the marketing activities of a brand because it allows the proper organization of all the marketing projects like emails, events, and content in one place.
Further, CoSchedule also contains a feature named ReQueue that tells you all the optimal posting time.
12. MavSocial
MavSocial is one of the social media management tools which is more of an advertising and social media management software i.e. affordable and easy to use.
It is perfect for someone who is looking for managing his Facebook ads. This tool takes care of every detail regarding the advertisements on Facebook when one opts for the higher paid plans. MavSocial is a visual content-centric Social Media Management tool.
It also performs all the functions of monitoring, scheduling, and reporting like other tools. But apart from these, it also has a digital library, where you can edit, manage and use different multimedia in your social media posts.
13. Friends+Me
Friends+Me is a social media management tool that is mainly used for sharing.
It can be used to set up automation for sharing content on various social media channels excepting Instagram. Though, Friends+Me is mainly focused on Google+.
You can use it for scheduling Google+ profiles along with associated collections, pages, and communities. It will also enable you to repost your Google+ posts on other social networks.
14. Crowdfire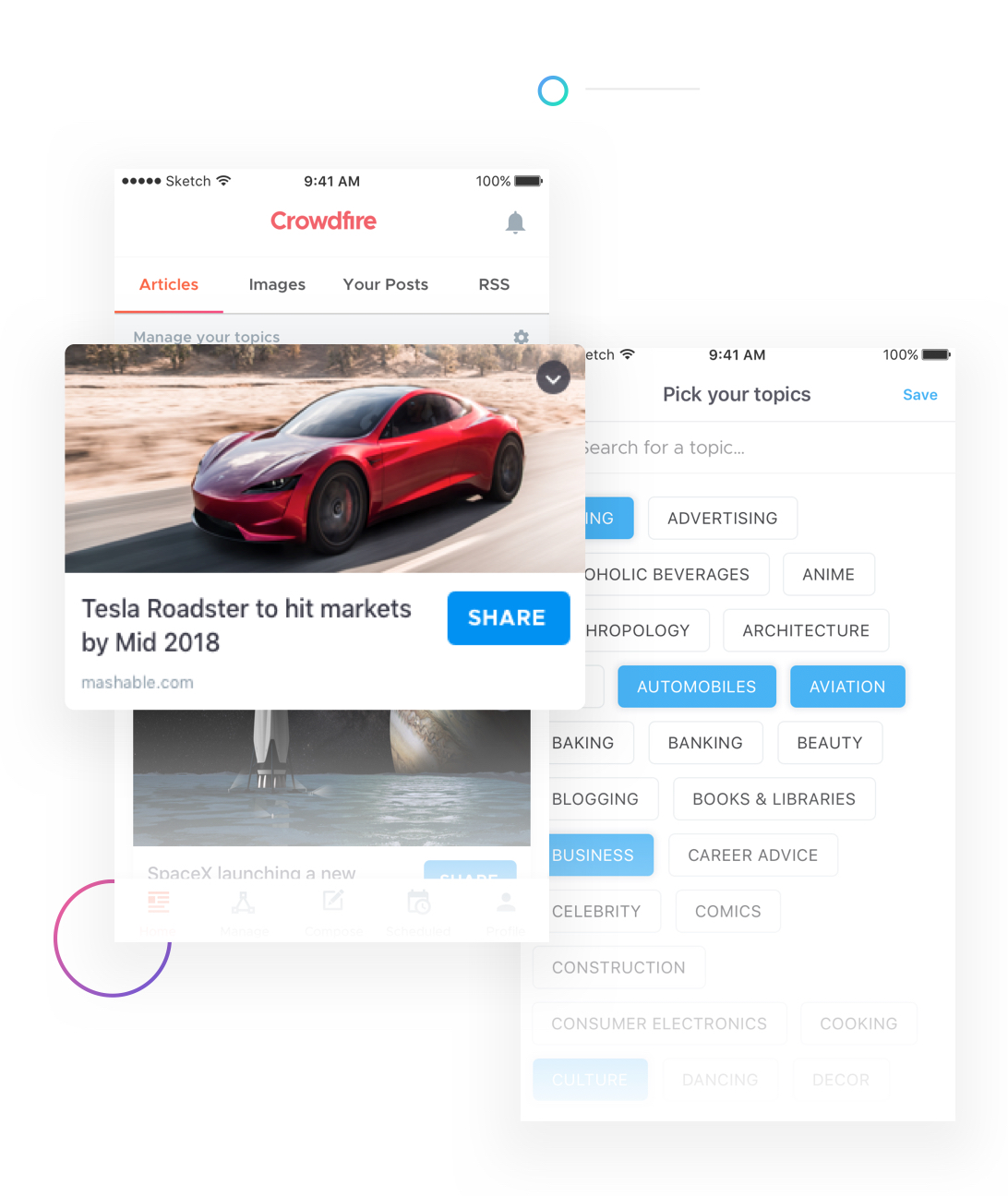 Want to alleviate your Social Media Scheduling? Then this is one of the most convenient Social Media Management Tools for you.
Other than scheduling content posting on Social Channels, it additionally enables you to deal with your Twitter account (take after and unfollow) and recommends the right articles that you can share on your profile.
Crowdfire emerges from most of the Social Media Management Tools that gives you a chance to interface with your web journals, blogs YouTube channels, e-portals and so on. With the help of this, it will create social posts for different updates on social platforms.
15. Social Studio
Social Studio is one of the best Salesforce Social Media Management Tools that help advertisers and marketers in Social Listening, Social Monitoring, Social Media Engagement, Content publishing, and managing different tasks and profiles from one dashboard.
Aligning Social Media Campaigns with traditional marketing strategies such as email distributions, special offers newsfeeds etc. is the strong suit of this Social Media Management Tool.
You can use it for sentiment tuning along with workspace management and ad promotions. Using it as a CMS in which insertion of stock photos related media, crafting photos and creating conversations is quite simple with Social Studio.
16. Oktopost
Rated as one of the top B2B Social Media Management Tools, Oktopost is a boon for B2B advertisers who need to create conversion driven leads through different Social Media channels.
It also helps advertisers measure the performance of social endeavors.
It is quite useful in Social Media Management, Employee Advocacy, and promotion of social campaigns. So, B2B marketers can find a wide range of Social Media Tools for different types of marketing and advertising through Oktopost.
17. HubSpot
Now comes the most popular all in one Inbound Marketing Genius i.e. Hubspot and its Social Media Tools are important parts of their across-the-board marketing tools.
As HubSpot coordinates all your online marketing endeavors (for example Social Media, SEM, SEO, email, and CRM) into one platform, you can without much of a stretch think about its benefits in ensuring better results for your marketing campaigns.
It can help you automate your campaigns, segment and track them, plus, you can also measure the Social Media ROI.
18. Meet Edgar
Meet Edgar is brilliant in automating the majority of your Social Media Exercises.
With its immaculate use, your direct interference will not be required for conducting different Social Media Activities.
It acts as your Content and Client Relationship manager that is well adept in posting the most relevant content to the right audiences. It also keeps up audiences educated and connected notwithstanding in your absence.
In addition, Edgar will give you a chance to post and sort out content in classes, track in-application clicks, and schedule expiry dates for your posts in an automated fashion.
19. TailWind
Tailwind is one of the best-rated Social Media Management Tools for Pinterest and Instagram marketing and advertising campaigns.
Aside from helping you plan your Social Media posts, analyzing discussions, and measuring results, it also gives suggestions for enhancing your Pinterest and Instagram marketing strategies
Its extraordinary idiosyncrasies include a scope of highlights that are particular to these visual Social Platforms and you can adeptly utilize it for the Pinterest Content Advancement and Instagram UGC Content Management.
20. Social Flow
Considered as one of the most famous Social Media Tools, Social Flow is highly convenient for managing your Social Media Marketing Campaigns.
Publishers will be able to schedule their posts with actionable data and right content in an automated fashion for better client engagement. It gives presumably the most thorough arrangement of tools for businesses. Social Flow enables you to improve your client interactions by adjusting your advertising, promotion, customer administration, and deals endeavors by creating and optimizing content for variety of platforms.
You can use it for organic publishing of content on Google+, Twitter, Facebook & LinkedIn. You can use it to run goal based campaigns for increasing CTR.
Learn how to use Social Media Tools!
Since you have gone through 20 best Social Media Tools, now, it is important that you know the right way of using them to get the productive results from Social Media Marketing Campaigns.
Enrolling in the Social Media Marketing Course will enable you to use Social Media Tools on hands-on projects in live training sessions.
You will learn how to build a community on Facebook, Twitter, LinkedIn, and other social platforms like a Social Media Expert does. Planning and creating a social media strategy for different channels and automating all of them are taught through Social Media Tools.
What Social Media Tools you would prefer to automate your social campaigns? –Share your thoughts in the comments below.