In this day and age, having a WordPress Blog is the sure shot way of having SEO compatible online presence. This will help you rank good in SERPs and find the most relevant audiences for your blogs as well.
Therefore, if you are interested to start WordPress Blog for yourself, but perplexed from where to begin then we have got you covered on that!
Many people have a burning desire to start their own blog to share their thoughts and ideas with the world but they often keep postponing it, as they are not familiar with the process. The fear of the unknown is soon going to vanish with our ultimate guide to start WordPress Blog.
We will walk you through the whole process of blog creation in a way that is understandable by the newbie and an expert alike sans any technical jargons. However, let us first go through some important points that you must be ready with before starting the blog.
The key points to start WordPress Blog are:
What do you want to blog about? – It is important to be clear from the start on what you want to blog about because the name of the blog and the design will be decided based upon your blog subject
A domain name that is the name of your blog
Web hosting account will provide you the space for your website go live on the internet
Knowledge of WordPress SEO, so you can easily optimize your blog on the web and find the most relevant traffic
Do not be of the idea that starting a blog is a time-consuming process. – It will take you just 30 minutes to set up and start running your blog.
Now, get ready to learn.
Task #1: The Setup
The most common mistake that newbie bloggers commit is selecting the wrong platform to start their blogging journey. Since you found us, you would be saved from making that mistake.
When you are a beginner at blogging, it does not make sense for you to go with paid blogging services. Therefore, we would recommend beginners to start their journey with WordPress.org. It is free and 95% of the bloggers choose this because apart from being free, you can easily start earning from the blog without any restrictions. Further, you also get to choose your plugins and customize your site according to your wishes.
If you are confused on why WordPress is free then let us clear it out that it is not free you have to put in the effort to set it up, plus host it, so it's technically not free.
We mentioned earlier that a domain name is the name of the blog. But it is not just a name it also comprises your web address. Which means people will type in the domain name to find your website. Just like Google.com or Youtube.com.
Now, let us come down to web hosting. Every blogger needs web hosting. It can be thought of as a house where your website would be staying.
WordPress Hosting
When it comes to WordPress hosting, Bluehost is a popular web hosting choice. It is associated with WordPress since 2005 and millions of websites use their services.
Now, let us get you your website (Domain and hosting).
First, open the Bluehost in a new tab and follow the below instructions:
Select the 'Get started' button.
Next, you will be asked to select your plan. After selection of a plan, you will then be asked to put in the domain name for your blog.
Now, you will be asked all the account information and the details of the plan you decided to go with. The 36-month plan, we think offers the most value and we would recommend that.  You will also be asked if you need some extra features but you can give it a skip for now and can add them later if the need arises.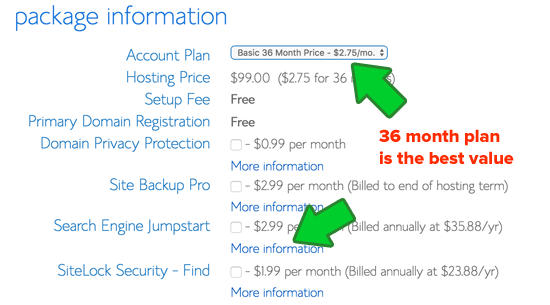 After you complete the process, an email will be sent to you disclosing all the details to log in to the website control panel (cPanel).
Task#2: WordPress Installation
Now, the time has come to install WordPress.
To install WordPress, you need to log in to the cPanel; it will display many icons offering different features. Ignore them all for now. Proceed directly to select the WordPress icon.
The Bluehost Marketplace Quick Install will open now. Here click on the 'Get started' option. Next, again you need to feed your domain name. You can select it from the dropdown list.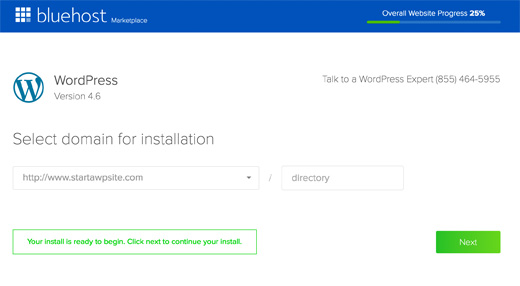 After you click 'Next', you will be asked to enter the username, password and site name for your website. When you are done with that, check the checkboxes before selecting 'Install'.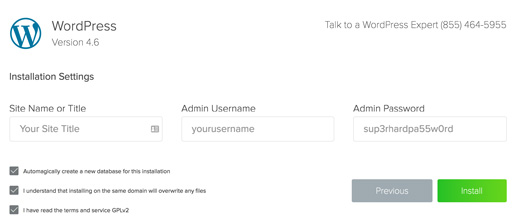 The installation process of WordPress will now begin. While the installation proceeds, you may be prompted to select themes but leave that for later. After installation is complete, you will see Installation Complete notice on the top.
Next thing is to tap on the installation link where the success notice is displayed. This will take you to a new screen, showing your login URL for WordPress and password.
Congrats! The process to install WordPress is completed & your WordPress website has now been created.
Task#3: WordPress Theme selection
After you install WordPress, the next thing is to select a WordPress Theme. When you first visit your website, it will show you a bland appearance. No one is going to like that.
Do not worry you can change that. WordPress offers you loads of themes from which you can change the appearance of your website according to your taste. Some of the themes will be free, while for others you will need to pay.
Selecting the visual appearance of your website and customizing it to appear more attractive is the most thrilling step for most. To start experimenting with your website looks, go to the WordPress dashboard. Select the 'appearance' option and then go to 'themes'.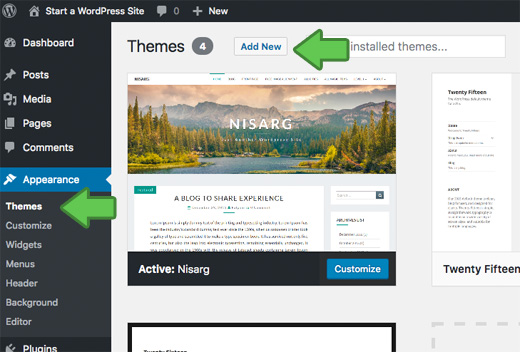 Then proceed by clicking on the 'Add New' button.
Now, the treasure of all the 5600+ WordPress themes will open, which are all free. In your endeavor of selecting the perfect theme, you can filter by popularity, industry-specific, latest and featured.
When you like a particular theme, you can preview it to see if it looks good on your website. We would suggest going with a simple yet attractive theme because they are user-friendly.
When you have decided on the theme then hover the mouse on it to show the install option. Clicking on it will start the theme installation.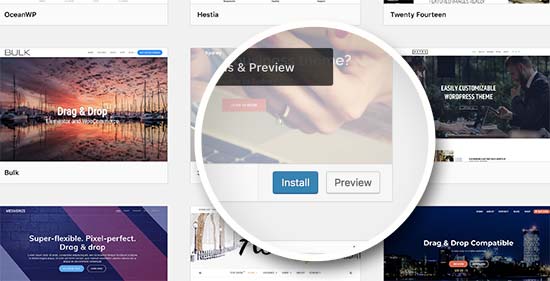 Task#4: Writing the First Blog Post
After completing all the tasks to set up the blog, now it is time to write your first post.
For that go to your WordPress Dashboard and select 'Post' and then 'Add New'. An editor screen will open. This is the area from where you can create your blog post.
When you have created your first post, you can share it with the world by selecting the 'publish' button.
When you had opened the post section, you must have noticed that there were many other sections present on it. There were Categories, tags etc.  These additional options that appeared in the post section can be used to organize all your posts on the website.
Task#5: All about Plugins and Customization
You can add many other things to your WordPress blog apart from just selecting your theme and customizing the appearance of the blog.  Some of the usual elements that you can add on your website are galleries, contact forms and sliders.
You have to install plugins for incorporating additional features on your blog. The good news is, loads of free plugins are available in the WordPress directory. Whatever features you are looking for just search it from the 55000 free plugins available on WordPress. Let us understand how using WordPress Plugins you can add a Contact form in your free WordPress Blog-
wordpress-blog, CCBot/2.0 (https://commoncrawl.org/faq/)
Creating a Contact Form using WordPress Plugins
Having a Contact Form is the need of every site because, via a Contact Form, site visitors contact site owners. WordPress Plugin can help you include it in your site in the easiest possible manner. For this, you may opt for WPForms Lite plugin that is actually a free version of WPForms plugin of WordPress.
For installing this, you need to go to Plugins and then click on Add New page. Here, in the search box, you need to type WPForms. Then, you just install the plugin and activate it. Once the installation is done, go to WPForms and then Add New page that will help you create your first form
Here you will find WPForms builder interface. Now, you should give your contact form a name and then go to 'Simple Contact Form' and open it
Now, a Simple Contact Form that comprises all the essential fields will be created for you. It also allows you to click and edit any field. You can add a new field as well from the left column
After the completion of editing, you should save all the settings by clicking on the save button at the top right corner. Now, just exit from the form builder. Then, go to Pages and click on Add New and give it a name 'Contact'
You will see the 'Add Form' button below the Edit Screen, just click on it and you will see a popup that will ask you to choose the form you have created. Now, click on 'Add Form' button.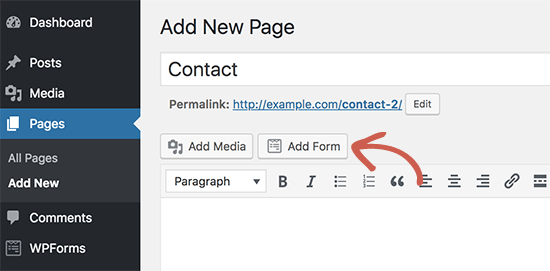 This will add your form code into your free WordPress blog. Then, you need to save it and publish it. When you will visit it in your browser, you will see that Contact from.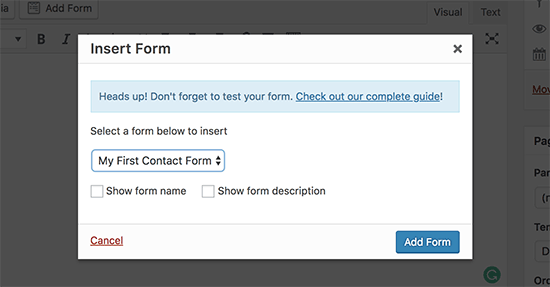 Task#6: Google Analytics Tracking for your WordPress Blog
Google Analytics will help you perceive what numbers of individuals are coming to your blog, what they are doing, what their inclinations are, their demographic details and so on.
Installing Google Analytics is inevitable for a free WordPress blog to know how well your blog is performing to accomplish your objectives.
To start with, you have to go to Google Analytics and sign in via Gmail account
When you are signed in, you will be required to Sign up for a free Google Analytics account.
Here, you need to give your site information and URL. Once you do this, you will get your Google Analytics Tracking code
Now, you need to go to the WordPress Admin Dashboard, and from there, you need to install MonsterInsights  plugin. Known as one of the best Google Analytics plugins for WordPress, MonsterInsights is also the simplest method to include Google Analytics in your blog.
After activating this plugin, you need to go to Insights and then into the Settings page. Here you can configure the settings of this plugin.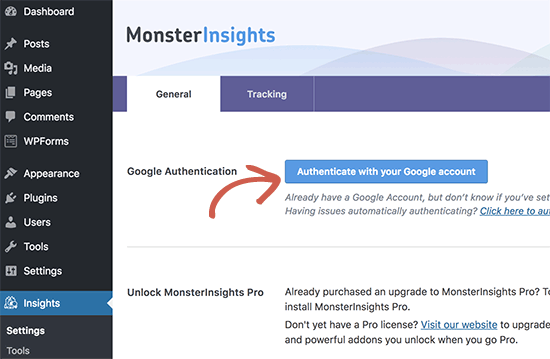 When you go to Settings Page, you need to tap on the 'Authenticate with your Google account' for interfacing Google Analytics to your free WordPress Blog.
Take after the guidelines given there to finish the procedure. This will allow you see the analytics report of your site from your WordPress dashboard via MonsterInsights tab.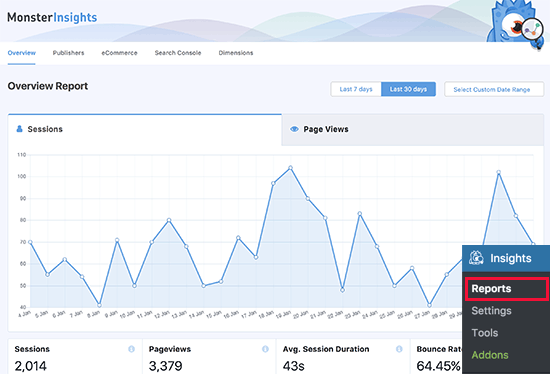 Task#7: Ensure SEO Compatibility of your WordPress Blogs
As we had said earlier that the best part of having a WordPress Blog is its ability to enjoy great compatibility with Search Engines. Therefore, when you start a blog on WordPress, it is important that you make it Search Engine Friendly.
Search Engine Optimization of a blog enables your audiences to discover your blog in Search Engine Result Pages (SERPs). So, if you want more relevant traffics on your site, it is important that when you start WordPress Blog, you make it SEO friendly.
For this, first of all, you should install the Yoast SEO plugin and activate it. This is the best WordPress SEO plugin that will take your WordPress blog to next level.
Therefore, when you initiate this plugin, you will see another menu thing named 'SEO.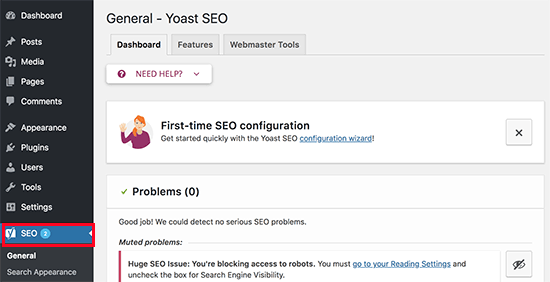 Now, you only need to tap on it that will take you to the settings page of this SEO plugin.
You can find Yoast SEO guide here.
Task#8 Making Profits from WordPress Blog
Once you install WordPress and start a blog, you must be considering in what manner you can make money from it. There are some extraordinary techniques to profit from your WordPress Blog. Here are portions of the most ideal approaches to doing this-
Google AdSense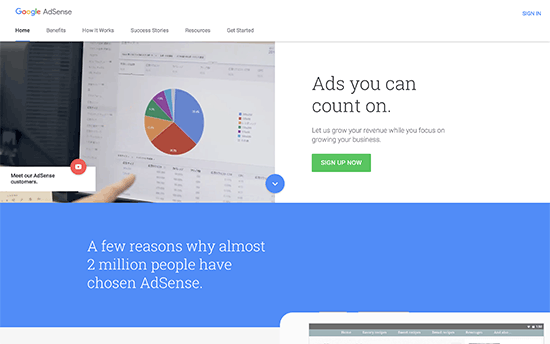 You must have seen different ads on blogs. You can also do this on your WordPress Blog and Google AdSense is going to help you with this. For ensuring monetization from a blog or site, Google AdSense is the prime most medium. Google Advertising processes through AdSense that is an advertising network channelized by Google. Using AdSense, you can run the image, video, text and other sorts of advertisements on your WordPress and make money.
You can be a publisher that advertisers can choose for running their ads on your blog. AdSense will act as an intermediary.  Advertisers will bid for the keywords related to ads that can be published on your site. Based on the bidding amount, you will be able to make money from your blog. However, for this, your site needs to have great traffick, authority and ranking in SERPs. Learning AdWords will also help you in the process.
Online Store
Using your WordPress blog as an Online Store is another top method to make money. You can sell different things, products and services directly from your blog. You can also offer consulting services using your blog as an online store. WooCommerce would be the most useful plugin for you to create an e-Commerce store. WooCommerce is one of the top-rated customizable eCommerce platforms that can help you build your own e-business. You can use it to sell anything from anywhere with appealing aesthetics that pull in more prospects for your online store. Some of the other plugins that you can use for Online Store are Easy Digital Downloads, Shopify, MemberPress, Shopp, etc.
Affiliate Marketing
You can use your blog for recommending products and services to your site users. Then, after going through your recommendations, if your site visitors purchase that product or service, you will get a referral commission. This process is known as Affiliate Marketing in which you work as an affiliate partner of any other company and service provider. There are thousands of high-end products and services that you can sell from your own site and make money. You can use your free WordPress blog and add Affiliate Marketing Plugins & tools for WordPress that will assist you selling products and services from your site. Some of the best WordPress Affiliate Marketing Plugins are-
Thirsty Affiliates
Adsanity
Constant Contact
Option Monster
Google Analytics
Outreach Plus
WP RSS Aggregator
Google Webmaster Tools
SEMRush
Rel NoFollow Checkbox
Learn & Master WordPress!
Now, as you have learned everything related to WordPress, start implementing those practices.
Joining the Digital Marketing Course can help you learn and master WordPress via hands-on projects. The tutorial is best for beginners, bloggers, start-up owners or non-technical people who want to create a site or blog for optimizing the online presence of their business or brand.
For what business or purpose do you want to start WordPress Blog? Share the details with us in comments, so our experts can guide you in the process.