Marketers need a touch of motivation to stay inspired for producing result driven contemporary marketing strategies. In such a case, Digital Marketing Quotes play a vital role in all such situations, as they guide marketers to provide the needed shape with their thoughts, ideas, plans, and strategies.
Digital Marketing Quotes offer some of the most important and powerful strategies for online marketers that can fuel up their marketing strategy straight away. In this post, we thought to cover the most popular, useful and inspiring Digital Marketing Quotes from the complete online marketing landscape.
Whether you are an SEOer, PPC Specialist, Social Media Manager, Content or Email Marketer, we are going to cover some awesome quotes for you.
Therefore, without any further ado, let us deep dive into the brains of some of the industry leaders and technology evangelists via their Digital Marketing Quotes-
Digital Marketing Quotes: Inspirations for Online Marketing
Let us start with some of the best quotes on digital marketing that can guide you make result driven digital marketing strategies-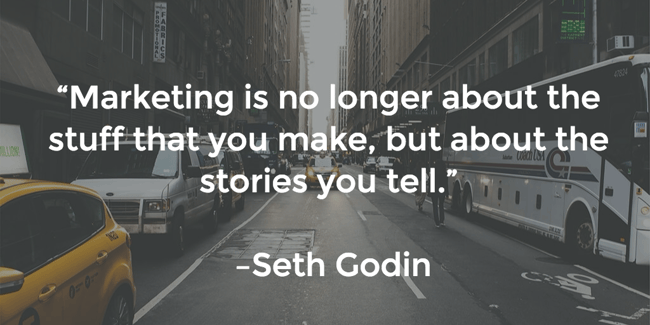 Good marketing makes the company look smart. Great marketing makes the customer feel smart.
– Joe Chernov
Good marketers see consumers as complete human beings with all the dimensions real people have.
–Jonah Sachs
The consumer is not a moron; she is your wife.
-David Ogilv, the Father of Advertising, Founder of Ogilvy & Mather
Without facts and principles, data is useless. 
–Bob Hoffman, Writer, Speaker and Type A Group Partner
People don't buy what you do, they buy why you do it.
–Simon Sinek
The best marketing doesn't feel like marketing.
–Tom Fishburne, Founder of Marketoonist
Marketing is not the art of finding clever ways to dispose of what you make. It is the art of creating genuine customer value.
-Philip Kotler
Marketing is no longer about the stuff that you make, but about the stories you tell.
–Seth Godin, Bestselling Author and Blogger
Instead of one-way interruption, Web marketing is about delivering useful content at just the right moment that a buyer needs it.
– David Meerman Scott
Google only loves you when everyone else loves you first.
–Wendy Piersall, Author, Blogger and Artist
The Internet has been the most fundamental change during my lifetime and for hundreds of years.
-Rupert Murdoch
Does your content lead readers on a journey, or does it merely stuff them as leads into a pipeline? 
–Ann Handley, Chief Content Officer of MarketingProfs
The Internet is becoming the town square for the global village of tomorrow.
–Bill Gates
Authenticity, honesty, and personal voice underlie much of what's successful on the Web.
–Rick Levine, Author of The Cluetrain Manifesto
Think about changing the mantra from always be closing, to always be helping.
–Jonathan Lister
Build relationships, not links.
–Scott Wyden Kivowitz
90% trust peers on social networks (even strangers); only 15–18% trust brands.
 –Danny Brown, Award-Winning Marketer and Author
The future of retail is the integration of Internet and digital services with the retail network.
–Charles Dunstone
People don't buy what you do, they buy why you do it.
–Simon Sinek, Bestselling Author
The next horizon will be deep integration of the physical and interactive worlds. The future of online is offline.
– Cyriac Roeding
Digital Marketing Quotes: Content Marketing
Now, the time has come to dive deep into best digital marketing quotes on content marketing to understand how to create quality, engaging and conversion driven content-
To continue winning the internet marketing game, your content has to be more that just brilliant, it has to give the people consuming that content the ability to become a better version of themselves."
–Michelle Stinson Ross, Director of Marketing Operations at Apogee Results
One of the best ways to sabotage your content is to not tie it to your goals. Know why you're creating content.
–Ellen Gomes, Senior Content Marketing Manager at Marketo
You can't sell anything if you can't tell anything.
–Beth Comstock, Vice Chair of General Electric
Content is not king, but a president elected by the votes of those whom it aims to rule.
–Raheel Farooq, Teacher, Writer and Voiceover Artist
Content marketing is a commitment, not a campaign.
–Jon Buscall, Chief Executive Officer of Moondog Marketing
It's not the best content that wins. It's the best promoted content that wins.
– Andy Crestodina
Content builds relationships. Relationships are built on trust. Trust drives revenue.
– Andrew Davis
Content marketing is really like a first date. If all you do is talk about yourself, there won't be a second date.
– David Beebe
When we create something, we think, 'Will our customers thank us for this?' I think it's important for all of us to be thinking about whatever marketing we're creating; is it really useful to our customers? Will they thank us for it? I think if you think of things through that lens, it just clarifies what you're doing in such a simple, elegant way.
– Ann Handley
When taking a content-first approach, our job as marketers is not to create more content … it's to create the minimum amount of content with the maximum amount of results.
– Robert Rose
Great marketers have immense empathy for their audience. They can put themselves in their shoes, live their lives, feel what they feel, go where they go, and respond how they'd respond. That empathy comes out in content that resonates with your audience.
– Rand Fishkin
More content is not better. What's the worst case scenario if we slow ourselves down and do some analysis?
– Kristina Halvorson
3. Digital Marketing Quotes: SEO
Let us go through some of the finest digital marketing quotes for business SEO to optimize their online presence in SERPs-
The beauty of SEO is that, instead of pushing a marketing message onto folks who don't want to hear what you have to say, you can reverse-engineer the process to discover exactly what people are looking for, create the right content for it, and appear before them at exactly the moment they are looking for it. It's pull vs. push."
— Cyrus Shepard
Rather than scrolling down the page past a slew of ads, users want to see content right away."
— Matt Cutts
You can't just 'SEO' your website and be done. It's a forever moving goal post."
— Stoney deGeyter
The best place to hide a dead body is page two of Google."
— Unknown
Don't Build Links. Build Relationships."
— Rand Fishkin
The objective is not to "make your links appear natural"; the objective is that your links are natural."
– Matt Cutts
SEO is only not seen as rocket science by those who already know it"
— Danny Sullivan
The success of a page should be measured by one criterion: Does the visitor do what you want them to do?"
— Aaron Wall
Crawling is not a guarantee you're indexed"
— Rand Fishkin
A real estate agency in Wichita has no shot at ranking for the phrase "real estate;" a lawyer in Fresno has no shot at ranking for the word "lawyer." Optimize for relevant, specific keywords that will bring targeted traffic."
— Matt McGee
Never lose sight of the fact that all SEO ranking signals revolve around content of some kind."
— Duane Forrester
If you're not meeting your visitors' needs, it doesn't matter how 'optimized' your site is."
— Stoney deGeyter
By creating and publishing remarkable content in the form that educates, informs, inspires and entertains, marketers can begin to build relationships with prospects early on in the buying cycle".
— Jonathon Lister
Commit to a niche; try to stop being everything to everyone."
— Andrew Davis
Content is anything that adds value to the reader's life."
— Avinash Kaushik
Content is King but engagement is Queen, and the lady rules the house!"
— Mari Smith
On-page SEO is no longer satisfied by raw keyword use. Matching keywords to searcher INTENT is critical."
— Rand Fishkin
Focus on how to be social, not how to do social."
— Jay Baer
Google only loves you when everyone else loves you first."
— Wendy Piersall
Think about what a user is going to type."
— Matt Cutts
Marketing has never been about keywords, it's about people."
— Simon Penson
If you have more money than brains, you should focus on outbound marketing. If you have more brains than money, you should focus on inbound marketing."
— Guy Kawasaki
SEO is a noun, verb and adjective."
— Todd Malicoat
My rule of thumb is build a site for a user, not a spider."
— Dave Naylor
Social may be sexy, but search still pays the bills."
— Tom Pick
SEO is no longer just a job title, it has become part of everyone's job description"
— Rand Fishkin
digital-marketing-quotes, CCBot/2.0 (https://commoncrawl.org/faq/)
4. Digital Marketing Quotes: PPC
We have incorporated some of the highly result-driven PPC quotes for you as well, so let us peep into their world here and now-
When ads become part of the information-gathering process, they cease to be ads. At this point in time, they are pieces of information that consumers are seeking. Wouldn't you like your ads to be sought after, not ignored?"
― Brad Geddes, Advanced Google AdWords
Be sure to segment your campaigns depending on the number and type of products you offer.
–Yorgo Petsas of Alensa LTD.
Be analytical and creative, finding different ways to look at results that make the most sense for your particular account.
– Jacob Brown, an Account Manager at Hanapin Marketing.
My key takeaway from the rise of local based searches is that granularity is key to a successful paid search account.
– Jeff Baum, an Associate Director of Services at Hanapin Marketing.
Always be relevant, create relevant campaigns, and give the user the answer to his query as precisely as you can.
– Marko Kvesic, an Online Marketing Manager at GoTraffic Online Marketing Agency.
Creating a well converting landing page is about presenting a sentiment that your audience will connect with. You have one page to build up enough trust to collect personal information from someone who in most cases has had no interaction with your brand before.
– Jillian Zacchia, a Content Generation Specialist at Acquisio.
5. Digital Marketing Quotes: Social Media
Social Media is pervasive, and below given powerful digital marketing quotes about Social media will guide you in adeptly utilizing the real power of social mediums in your favour-
Social media is not just an activity; it is an investment of valuable time and resources. Surround yourself with people who not just support you and stay with you, but inform your thinking about ways to WOW your online presence"
– Sean Gardner
I use social media as an idea generator, trend mapper and strategic compass for all of our online business ventures.
– Paul Barron
The first rule of social media is that everything changes all the time. What won't change is the community's desire to network.
– Kami Huyse
Social media allows big companies to act small again.
– Jay Baer
You can never go wrong by investing in communities and the human beings within them.
– Pam Moore
People want to do business with you because you help them get what they want. They don't do business with you to help you get what you want.
– Don Crowther
If you make customers unhappy in the physical world, they might each tell 6 friends. If you make customers unhappy on the Internet, they can each tell 6,000 friends.
– Jeff Bezos
Engage, Enlighten, Encourage and especially…just be yourself! Social media is a community effort, everyone is an asset.
– Susan Cooper
Word-of-mouth marketing isn't about giving customers talking points, as if they were brand spokespeople. It's about delivering an exceptional customer experience that makes customers want to recommend you.
– Deborah Eastman
Pushing a company agenda on social media is like throwing water balloons at a porcupine.
– Erik Qualman
Social media is about sociology and psychology more than technology.
– Brian Solis
We have technology, finally, that for the first time in human history allows people to really maintain rich connections with much larger numbers of people.
– Pierre Omidyar
Going viral is not an outcome; it's happening. Sometimes it happens; sometimes it doesn't. Just remember, fans are vanity and sales are sanity."
– Lori Taylor
6. Digital Marketing Quotes: Email Marketing
Email Marketing is still one of the most popular and powerful ways of generating leads and ensuring conversions. We have comprised some of the best digital marketing quotes on Email Marketing for you here and now-
Email has an ability many channels don't: creating valuable, personal touches – at scale.
– David Newman
Average conversion rates are meaningless. Switzerland on average is flat.
– Chris Goward
Focus on growing your list all of the time as newer subscribers are more engaged adding to healthier open rates and ROI.
— Karl Murray
Marketing is like sex: everyone thinks they're good at it.
– Steve Tobak
Not enough talk about the importance of brand in email. Customers don't sign up for email — they sign up for your brand.
— Bob Frady
Perhaps not surprisingly, cash is still the #1 driver for consumers to share their information.
– Jordie van Rijn
Quality over quantity — Emails may best cost efficient but it's no excuse to not produce quality content to give to a targeted audience.
— Benjamin Murray
A small list that wants exactly what you're offering is better than a bigger list that isn't committed.
– Ramsay Leimenstoll
People need stories more than bread itself. They tell us how to live, and why.
– Arabian Nights
Don't use big words, they mean so little.
– Oscar Wilde
How to write a good email: 1. Write your email 2. Delete most of it 3. Send.
— Dan Munz
Treat your subject line like the movie trailer — give a preview so they know what to expect.
— Anonymous
Start testing and stop arguing.
– Jon Correll
Why waste a sentence saying nothing?
– Seth Godin
That which is measured improves.
– Karl Pearson
Signing up is a powerful signal of intent to buy. Send them email until they do.
– Jordie van Rijn
Make the customer the hero of your story.
– Ann Handley
Don't continue to do what you've always done just because it's easy to do!
– Ian Minnis
Personalisation – it is not about first/last name. It's about relevant content.
– Dan Jak
Open, click and unsubscribe rates are pretty poor measures for email engagement.
– Jordie van Rijn
I want to do business with a company that treats emailing me as a privilege, not a transaction.
— Andrea Mignolo
To get the right message to the right person at the right time you first need to get the right data to the right database at the right time.
— John Caldwell
Wrapping Up
Now, on the concluding note, we hope aforestated Digital Marketing Quotes will help you find out the motivation and the needed power in your strategy to make your Digital Marketing Campaigns more conversion oriented and result driven.
By taking inspiration from these Digital Marketing Quotes, you can tweak your marketing campaign and empower it to accomplish your business as well as marketing goals.
Enrolling in Digital Marketing Course will help you go through the practical implementation of all the Digital Marketing Strategies covered in aforestated quotes. You will learn and master Digital Marketing with the help of hands on projects.
In case of any doubts or query about Digital Marketing, feel free to share with us in comments.