Have you ever wondered what Facebook interview questions may look like? What are the possible Facebook marketing questions? And if there are such questions then what could be the best possible answers for them?
In this article, we will find out the answer to these questions and will learn about the Facebook interview questions in a broader sense.
If you are running a business with the help of Facebook then there might be some questions striking your mind day and night. We will dive deep into those Facebook Interview Questions with their answers in this article.
Facebook Marketing has become an important component when it comes to digital marketing. Not only huge businesses but also the entrepreneurs have already started making their way towards it. Taking into consideration the increasing demand of Facebook Marketing, it can be seen as a promising career opportunity.
So, if you are heading towards a Facebook Marketing interview anytime soon, it would be great to read through this list of Facebook Interview Questions and their answers.
Top Facebook Interview Questions and Answers
1) Can I change my Page Name?
Answer – This is one of the most common Facebook Interview Questions that most of the candidates encounter.
A lot of people want to change the name of their page but they don't exactly know if they can or cannot. According to the Facebook policies, changing the name of your page is an easy process, if there are less than 200 followers on your page.  If you fulfil the above-mentioned criteria, then you can follow the steps mentioned below to change the name of your page.
1) Scroll through the tab section located below your Facebook cover photo and click on it.
2) You will see a new option of page info in the left column (automatically), click on it.
3) You will see your page's name on the right side, hover over it and click on the edit option mentioned on the right side.
4) You are all set to change your page's name, simply enter the new name of your choice and click on save changes.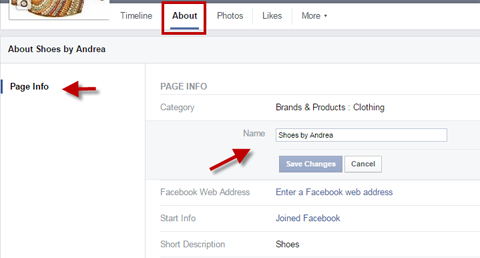 Bingo! Your page's name is changed now.
But what if your page holds more than 200 followers?
Changing a name under this condition is not that easy and there are a few options.
Most people who haven't changed their page's name are allowed to change it once even if there are more than 200 followers on their page but there are a few unlucky people who are not allowed to change the name of their page even if they haven't changed it ever in the past. In case if you are allowed to do so be very cautious with it as you won't be able to change it in future.
If you fall in the category of lucky ones then you will see a link stating "Request Change" under the about tab section.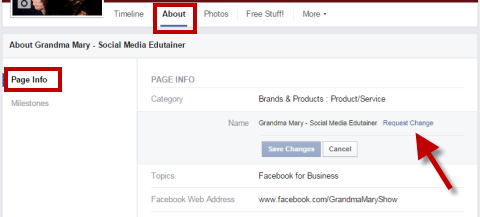 As you click on that link a form will appear on your screen. You are supposed to fill it in order to go to the next step. If you are having official documentation of your branding then you can complete this process in little time. Once you fill the entire form click on the Send option and you will get an update within a few hours.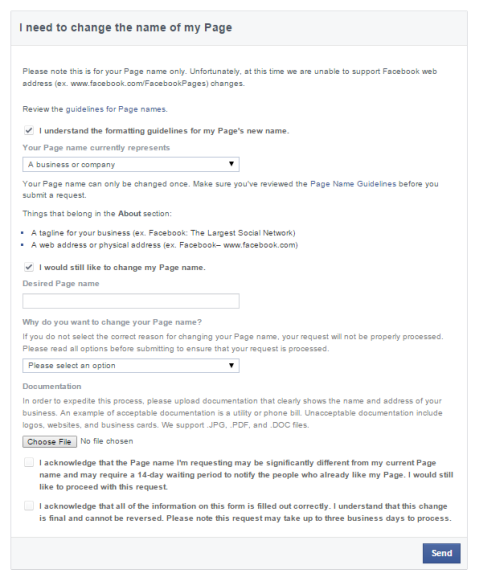 If you are among those unlucky ones and you don't see a Request Change link under the about tab section. In this case,  you will have to take the help of the "Help" section of Facebook and this process can get a bit lengthy. You will have to report there and if everything goes well you will get a response from Facebook help panel within a few hours. You can then follow the same instructions to change the name of your page.
2) Can I change My URL?
Answer – You might have wondered if you are allowed to change your page URL just like the page name. Your Facebook page URL or website address is actually your username on Facebook. If someone tries to reach you on Facebook then he/she will have to type the exact username in the URL tab.
The URL may look like, www.facebook.com/[username]. You have to be very specific with this process because you can change this only once, so be cautious with your decision.
When you first set up your page, you may get a lengthy URL for your page which can lead to lower traffic on your page. Thus, it is recommended to cut it short in order to attract more people towards your page.
In order to change the page URL, you must be the admin of that page. You have to follow certain conditions in order to set a new page URL. You can only opt for alphanumeric characters and you are not allowed to add any specific character or space in your page URL.
You must note one thing that when someone tries to reach your page he/she can enter the name in capital or small letters. This means that username is independent of capitalization. You will have to check the availability of your page URL and if there's an availability of that name you can change it.
In case if you are not allowed to change the page URL even for the first time then you will have to take the help of "Help" section of Facebook. You will have to report your issue to the Facebook panel and they will respond you within few hours. You can follow the steps stated by them to change the page URL.
3) How do I Merge Pages?
Answer – There are certain cases when you hold two similar pages which talk about the similar kinds of stuff then you might want to merge them. In order to do so, you will have to make sure they focus on the identical stuff and hold a similar name (Facebook will allow merging if the pages are alike).
Your fans count, ratings and check-ins of the two pages will be merged. The major point you should note is that the posts, photos, and videos from your secondary page will be deleted forever. So think twice before making any decision.
You will only be able to retain the history (posts) of one page (your primary page). For this, you will have to select the primary page between the two. This is a one time process which means that you won't be able to unmerge the pages in future. You will only be allowed to make this change if you are admin of both the pages.
You can go to the General tab under the settings menu of Facebook. There you will see an option to merge the pages. You can also reach this option by typing http://www.facebook.com/pages/merge/ in your URL tab.
Once you click on the keep page option you may get another confirmation message through which you will be able to review the merging. Facebook will notify you within a few hours about the change. If it's done then good and if there's an issue with the change Facebook will let you know.
Facebook will only allow the change if both the pages are about identical interests so make sure to choose the pages rightly. Name, location as well other information on the two pages must be similar in order to merge them. The URL of that secondary page will also be deleted forever.
Hopefully, I was able to provide you with the answer of this Facebook Interview Questions, let us move towards the handling of your Facebook fans-
4) Can I See Who are My Fans?
Answer – This is also amongst the very genuine and most commonly asked Facebook interview questions. You must have an urge to see who all are the followers of your page. You will be allowed to see your fans only if you are an admin, editor or moderator of the page.
You must note a point that you will only be able to see those fans who have set their likes to the public. You won't be able to see them who holds a privacy for their likes. However, the fans count is not affected in either case.
You can see an outline of people on the top of your Facebook window as you will log in to your page. You can click here to see the recent likes on your page and you can click on See All in order to view the entire list of your fans.
You can also view the likes on your page by clicking on the Page Likes tab on the right side of your page where it mentions the total fan count. You can choose to See All option to view your Facebook followers.
5) Can I See Who has Checked into My Location?
Answer – Again amongst the most popular Facebook interview questions that must have stuck to each and every Facebook account holder. However, you are not allowed to see who has checked into your location.
Many people have requested for this feature from Facebook but it is yet to be rolled out. Facebook considers it a privacy concern.
6) How do I Enable Ratings and Reviews?
Answer – If you are a business holder and hold the page to promote it on Facebook, then this particular Facebook interview question is precisely for you. You might also have come across it a couple of times. Well, it is obvious that every Facebook Page admin is curious about the ratings and reviews of the Facebook page that he/she is taking care of.
However, you must also note that you will only be allowed to access this feature if your business is categorized as a local business on Facebook and is holding a physical address.
According to Facebook policies, this feature is displayed by default on your page but you can change the settings accordingly in the local business category if you don't want others to see the ratings and reviews on your page.
You can reach this option of local business under the about tab section of your page. There you will find the address section after which you can click on the EDIT option next to the address.
A map will be displayed to you. You will see an option of show map, star ratings, and check-ins on your page. You can check or uncheck this box according to your interest.
facebook-interview-questions, CCBot/2.0 (https://commoncrawl.org/faq/)
7) Can I Send Fans a Private Message?
Answer – This is one of the very common Facebook marketing questions that every Facebook page holder encounter. You might want to send private messages to your fans in order to communicate with them or to send them an important information.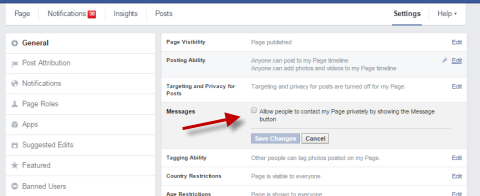 However, you can only do this if you have enabled the message button on your Facebook page. A point must be noted that you will only be able to reply to someone's message which means that you can't send the first message to your fan.
Once you have enabled the message feature on your page you will have to regularly check your inbox on the page. As someone will send you a message you will be able to start a conversation with them.
8) How do I Show Video in About Section?
Answer – We call it as a featured video which is displayed on the left under the about section of your page.
A number of page holder might get caught up with this sorts of Facebook interview questions.
In order to access this feature you will have to scroll through the videos tab on your page and click on add featured video and then you can select the video of your choice to display it on your page.
9) How do I Regain or Claim my Page Not Under My Admin Control?
Answer –  Again one of the top-rated Facebook Interview Questions for you.
It may happen that you created a page for a company without passing admin control to someone else in the company.
It becomes tough to manage the page if you are not an admin of the page. In order to get the authority you can click on the three dots button and click on Is this your business option.
After that Facebook will ask for certain verification question and then will verify it through a phone call or email or through official documentation. If everything goes right you will get the admin control. If you are not allowed to do this, you can also report the page but it will take time to get a response.
Final Words!
As mentioned before, Facebook Marketing is a core component of Digital Marketing. Gone were the days when it was just used a medium of connecting with family and friends. Now, the trend has changed. It has now become a popular platform advertising and marketing platform.
Have a look at this exclusive series of Marketing Interview Questions.
There are a number of Facebook interview questions that pop up in your head. You might have got the answers to those questions in this article. These were the top Facebook interview questions for freshers. Do go through these questions once again if you are looking forward to facebook interview session anytime soon.
Joining the Facebook Marketing Course can help you master complete landscape of Facebook Interview Questions and Answers.
Still, if you have any doubts about Facebook Marketing Interviews, share your queries in the comments below.