When you run a marketing campaign, its performance can be tracked via Marketing Analytics.
It is only because of marketing that a business can actually proceed with its main operations i.e. lead generations, conversions, sales and profits.
As per a report of Convince and Convert, around 44% of CMOs say they prefer measuring ROI via analytics.
So, with marketing being so important to facilitate the operations of the business, it becomes all the way important to evaluate the marketing performance and Marketing Analytics empowers you to do this adeptly.
What is Marketing Analytics?
The answer to the question of what is marketing analytics is simply the measuring, managing and analyzing the marketing performance. The concept of marketing analytics facilitates not only to improve the effectiveness but also allows the marketers to take a successful shot at optimizing the return on investment.
Marketing analytics portrays the customer insights and trends.
It is shocking to see that most of the organizations tend to ignore the concept and importance of marketing analytics. It is surely a great way to obtain a picture of as to how the marketing efforts are deriving revenue.
The importance of marketing analytics is not only depicted from the fact that it provides a clear picture about the marketing efforts, but also from the fact that it also allows you to monitor campaigns that can easily facilitate the saving of resources.
The below-mentioned points efficiently portray a picture as to why marketing analytics is the need of the hour for every business no matter what the field is:
Why Marketing Analytics is Important?
(i) Understanding the customer and market trends is really important in today's time. Marketing analytics easily allows understanding of big picture trends that too by focusing on every single detail.
(ii) With the aid of providing you with a clear picture of the efforts and the returns, it allows you to easily depict that which programs worked and also depicts the reasons why it failed or even succeeded.
(iii) The market study is also an important part of the business. Marketing analytics allow monitoring of trends over time.
(iv) Marketing analytics allows understanding the return on investment by providing a clear picture of the working and the reports of each programme.
(v) By easily helping to study the market trends, marketing analytics facilitates to proficiently forecast future results.
Download Detailed Curriculum and Get Complimentary access to Orientation Session
Date: Online & 27th Jan (Wed)
Time: 3 PM IST
Turning to search marketing, keywords also allow understanding what even the mindset of the customers is. Analytics help you find the keywords that can easily be used to optimize business processes by –
(i) Customer surveys — One can easily infer the relative priorities of competing interests by the examination of keyword frequency data
(ii) Industry trends — It becomes really easy to understand and predict trends in customer behavior
(iii) Product design — It is vital to understand what are the solutions that a customer is looking for. Keywords can easily facilitate the understanding of what the customer actually wants
The main questions that strike the mind of the marketers after evaluating and understanding the importance of marketing analytics, is where to start and how to work proficiently with marketing analytics tools.
With the easy availability of search engines, search engine optimization, paid search marketing it has become easy to implement the concept of marketing analytics.
There are many Marketing Analytics tools that are available for the marketers to easily use for their aid. Below are some of the most famous tools that can be effectively used for the concept of marketing analytics-
Marketing Analytics Tools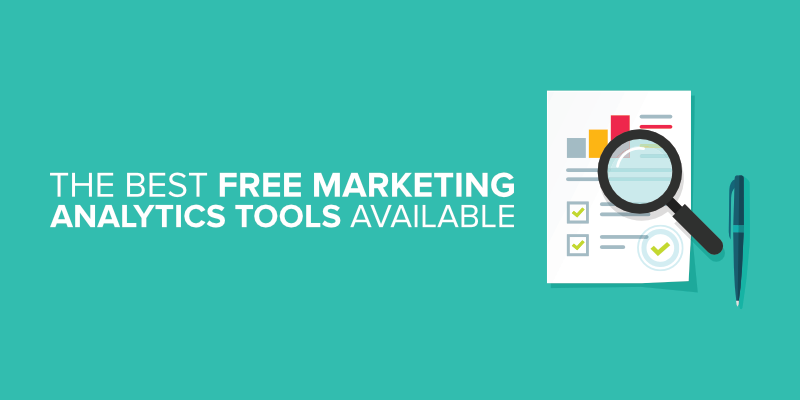 Event-based tools
This is one of the effective tools of marketing, also known as click analysis.
This tool mainly focuses on the things that matter the most to the business, like shopping cart matters to an e-commerce website. This tool helps to track the actions of individual users within an app, website.
The main and best tools of marketing analytics mostly have broad-ranging capabilities.
The marketers can also integrate more offers with the aid of tracking more devices and channels.
Some of the tools that facilitate the collection of marketing data are website analytics tools, app analytics tools, marketing automation, and data platforms.
Some of the best event based marketing analytics tools are-
1. MixPane
What do you expect from a top quality marketing analytics tool? It should focus primarily on tracking different events related to you on your website and mobile app, yes you heard it right, it can very well track the events on the mobile app as well.
You just feed in the details about what you want to track and MixPanel will handle the rest on its own. Though MixPanel was originally created for Product managers, it has so much for marketers as well. The base package starts from $99 per month and you can enhance it accordingly.
2. Heap Analytics
This is a newcomer in the field of marketing analytics but you won't be able to complain about its performance. The working of this platform is much similar to that of MixPanel and can automatically track actions on your website and your app.
You can manually set the preference and Heap Analytics will accordingly manage the rest. Funnels can also be created by using Heap Analytics. You can further view the analysis report and work accordingly on your website or app and enhance your marketing campaign.
3. Oribi
When it comes to simplicity Oribi excels its competitors and provide its users with the easy user-interface. The main focus of this tool is on faster data-driven decisions.
One of the best features of this tool is that it will automatically track the data on your website and there is no need to manually set everything. Even a small change in your website will be tracked by Oribi and it will highlight it in the dashboard. You can choose the subscription plan of $79 per month or $799 per year.
Download Detailed Curriculum and Get Complimentary access to Orientation Session
Date: Online & 27th Jan (Wed)
Time: 3 PM IST
4. KissMetrics
KissMetrics ranks among the toppers in the list of marketing analytics tools and it deserves that as well. It has been designed to track the activity on your website and you can further use its analysis report to enhance the user's engagement and improve your business.
It will also let you know about what impact will your changes in the website will cause hence you can tweak that at the same time to enhance the results.
Testing Tools
This tool allows the marketers to test multiple variants of a feature or a message.
Testing is considered an important part of product development as it helps to collect real data. No marketer would fancy the idea of working on the basis of assumed data no matter how strong the gut feeling may be.
These tools even facilitate contact with users using channels like emails, push notifications, in-app notifications, and even web-hook. Some of the AB testing tools for you here are-
1. Optimizely
It is best used to test different variations of any page or any element related to your website. You can further decide which variation is going to suit your requirement depending upon the analysis report of optimizely.
You can lead experiments on your website and test which is the best variation for your marketing goals.
2. VWO
Visual Website Optimizer or VWO works in a similar fashion as Optimizely. It can also provide you with the best results about different variations on your website and you can then analyze which variation suits your marketing goals.
One of the best features of this tool is that it offers a visual editor hence you can create visual changes and test them accordingly to pick the best one for you.
Visual Behavior Tools
 Such tools allow outlining that how much time the user spends at looking at the screen and what he actually looks on to.
The basic aid that helps in the collection of the data is cursor movement as a proxy. These tools also help the users to segment the data and find that how down the user actually scrolled too.
Marketers can use the data to proficiently rearrange their interfaces and successfully bring a positive change in their services. Best Marketing Analytics tools in this category are-
1. Hotjar
Hotjar offers many analytics features that you can use to enhance your overall marketing campaign and eventually improve your business. The main features of it are – Feedback polls, conversion funnel analysis, surveys and registration form analysis.
It provides you with a heat map which can be used to track how visitors are interacting with your website and what actions do they take on it.
2. Crazyegg
Just like Hotjar, crazyegg also offers a heatmap through which you can understand the performance of your website. It will let you know what actions people are taking on your website, how they scroll, where do they click and so on.
Their analysis report is so rich in terms of information that you can optimize your website in the best ways to enhance the user's engagement and get better conversions as well.
Digital Marketing Analytics
These tools collect data from the aid of marketing and advertising channels. These tools can be easily grouped into five categories
Search Engine Optimization tools help to understand how likely the website is to show up on the search results.
Social media platforms offer free analytics that allows marketers to understand how users react to their profile and online appearance.
Search Engine marketing tools allow marketers to improve their ad performance to gain an edge over the competitors for better performance and outcomes.
Display ad platforms allow marketers to help marketers improve their success rates.
Predictive-scoring model platforms allow marketers to score users or prospects primarily on the basis of likelihood to buy or renew.
Some of the tools for these purposes are-
(i) Google Search Console
(ii) MozPro
(iii) SEMrush
(iv) Google Analytics
Marketing Dashboard Tools
These are mainly related to the unification of data.
The consolidating of analytics is always considered to be a good idea. It easily saved time and efforts caused due to duplicity and even being bogged down. This allows the marketers to manipulate data quickly due to one consolidated dashboard and answer the queries easily.
These tools are a hit among the people who love the simplicity and avoid ad hoc systems due to complexity. Dashboards even allow to automatically refresh data which is evidently missing in use of excel sheets. Top rated dashboard tools are-
1. Cyf
You can view the data from different marketing tools on a single dashboard of Cyfe. Tracking data from different social media platform is a cakewalk while you are using Cyfe. It is a great tool for marketers who want to see different variations of results on a single dashboard.
2. Klipfoli
Here you can build your own dashboard and it will provide you with all the marketing analysis data that you need. You can manually put the data from different tools on its dashboard and it will show you accordingly.
Some of the major tips that should be the point of focus when using marketing analytics tools are listed below-
Top Tips for doing Marketing Analytics like a Pro
(i) Repeat Ad Nauseum — To ensure your advertisement displays for applicable searches, the use of negative keywords can help to a great extent. The use of negative keywords is recommended by almost most of the profession or even the newbie marketers keeping in context how advantageous this technique can actually be.
(ii) Results and analysis — It should be a common practice to display keywords in ad text which portrays that the ad is relevant to the search. An ad which is solely related to the search surely gets more clicks and is obviously great for the website and even the business.
(iii) Implementing natural search — The habit of inculcating the best keywords into your website increased the chances of clicks more than even a paid advertisement. This surely facilitates the generating of new content.
(iv) Keyword research — It is important to know how to do keyword research as the aid of stagnant keywords can affect the online appearance as it neglects the information and even the trends on new products.
(v) Using paid search marketing — Taking the aid of paid search marketing, lowers the bid and also improves the ad position. Having said that, it does not mean that you should only rely on paid marketing but yes you can't choose to ignore its importance. This can easily be one of the proficient marketing analytics examples.
(vi) Messing with the data — It should always be kept in view that the reports and information which is gathered from the search marketing provides aids in all aspects of the business and even the offline revenue and primarily the product development. You should always provide proper attention to the implementation of search efforts.
Download Detailed Curriculum and Get Complimentary access to Orientation Session
Date: Online & 27th Jan (Wed)
Time: 3 PM IST
Paid Campaigns & Marketing Analytics
The improvement of marketing strategy of PPC advertising campaigns can be easily done through the aid of the AdWords campaign.
It is only the strength of this campaign that facilitates and portrays that how well the ranking is in the search engine. The fact that your site would never be seen by prospective clients without a decent ranking should always be kept in context.
It offers expert analysis on to the site and obviously the performance of the efforts that the marketers put in. Let us have a look on some of the marketing analytics examples to understand the concept in more comprehensive manner-
Marketing Analytics Examples
Amazon Fresh and Whole Foods
This campaign is one of the best Marketing Analytics Examples that showcase how analytical data helped Amazon gauge how customers purchase groceries. It also updated the company about how suppliers would do their interaction with the grocer.
Netflix use of Marketing Analytics for Target Adverts
Netflix used the analytics data to find out specific inclinations of their audiences. Accordingly, company sent emails to their subscribers about the programs that would be best fit for them.
These marketing analytics examples facilitate the smooth operation of an online marketing campaign. Online marketing campaign depicts how the online appearance of your site is and that is solely responsible for how your website fares among the users.
In Conclusion…
The advantages depicted above for a great conclusion about how fine the concept of marketing analytics actually is. This concept of analytics always helps marketers to a great extent to review the performance of their campaigns and obtain reports. These reports directly provide aid in the representation of the data accordingly.
The analysis helps in the formulation of the strategies in such an order that it ensures proper returns with minimum efforts. Now, who wouldn't want a strategy or a programme that allows the marketers to put minimum efforts and also obtain desired maximum returns?
Hopefully, you must have got your answer to what is Marketing Analytics. Good luck with your stint with marketing analytics and seeing it do wonders for your business!
Want to learn and master marketing analytics? Then Web Analytics Course would be the right pick for understanding the concepts in a practical manner.
In case of any doubts about the concepts associated with Marketing Analytics, feel free to write us in the comments.