What is Google Chrome Extension?
Google Chrome extensions are programs that are to be installed into Chrome. Google Chrome Extension help to modify and enhance the browser's functionality.Through this one can add new features to Chrome or make it more convenient for the user by modifying the existing behavior of the program itself.
Examples of the type of functionality that a Google Chrome extension can add to Chrome include:
Blocking ads from being displayed
Optimizing memory usage so that Chrome runs more efficiently
Adding to do lists or notes to Chrome
Password management
Making it easier to copy text from a site
Protect your privacy and making web browsing more secure.
As you can see, extensions offer a wide range of extra functionality so that you can perform tasks easier or get more out of the websites you visit.
How do you use a Google Chrome Extension?
How you use a Google Chrome extensions depends on the particular extension. Some extensions work in the background and perform particular tasks automatically. Other extensions will add menu options to the menu when you right-click on a web page as shown below.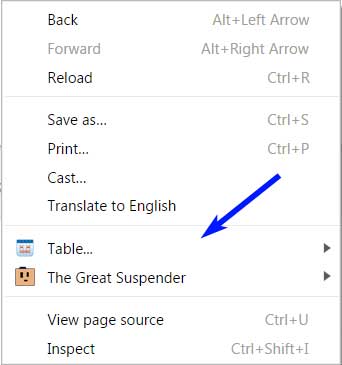 Extension Adding Options to Right-Click Menu
These icons can be clicked on or right-clicked to access the functionality of the extension.The extensions will also add small icons to the right of the address field in the browser. The example of extension icons in the image below.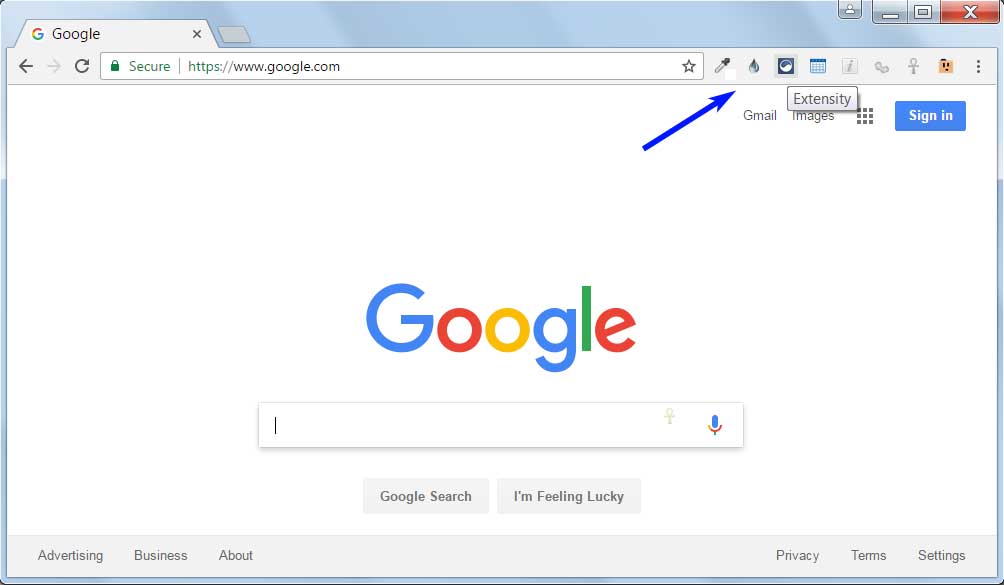 Where can I find Google Chrome Extensions to Install?
The best place to get a Chrome extension is from Google's Chrome Web Store. While some developers offer direct downloads of their extensions.There are extensions available for free.
Google Chrome Extension For Lead Sourcing
Lead Sourcing can be a very daunting task for SEO Manager. Lead sourcing tools can help to ease management and reduce the cost of investment that is very valuable to marketers.There are various Google Chrome Extensions that one can use to gather emails and easily perform the task of lead sourcing. Some of the Google Chrome Extensions are paid while others are free.
Here is the list of Chrome extensions that help the lead generation process and offer affordable solutions:
#1) 
Clearbit Connect
Clearbit Connect helps to find any business email address instantly, even if the person isn't in the address book. It is a free extension that helps provide information about the people who email in Gmail (including company details). 
Clearbit gather's information about a person (avatar, description, title, and even time zone) by searching through hundreds of sources from the web in real time from the  Gmail's sidebar.This is possible whenever a conversation is open on  Gmail, or hover over an email. They pull out detailed company information (logo, size, category, etc.) also when available. This helps in understanding the people better when communicating with and writing more effective emails.
Finding new contacts
Connect help user to generate valid business emails instantly. Users do not have to trawl the internet looking for someone's email, or try multiple combinations of an email format and hope they don't bounce?  This is possible because of automation process in Connect. They don't even need to know the person's name! And return name, title, location, and email from just a company name and title. Simply click on the Clearbit icon in Gmail's compose window to get started.
How To Install It?
Step 1)
 Go to the official website of clearbit connect and click on Install Chrome Extension icon. Add the Clearbit Connect extension to  Google Chrome. The pop alert will open up as shown in the screenshot given below, click on Add Extension button.
Step 2)
The extension will be added to the browser and then the next step is to go to Gmail and hit refresh.
Step 3)
When the page reloads, you will be able to see a new link named Connect. Click on the Connect link to set up a Connect account in your Gmail.
Step 4)
You can choose to have the free version for the time being.
Step 5)
After the account is set up, next step is to click on connect link from the list options.Click Find an email.
Step 6)
Enter any company domain name for which you need an email address.
Step 7)
It will list the employees of the particular organization that's been looked upon. Click on a specific entry to view detailed information on a particular person as well.
Step 8)
Now if you want to get a clear picture about the sender of a particular mail, open that email and look at the right side of the window. There you will be able to view a compiled view of personal information and online links associated with the sender
#2) Anymail Finder 
 Anymail Finder help build targeted email lists while visiting prospects websites. It is a tool that will find email addresses in bulk for a list of names and companies prepared in a spreadsheet.They find and verify email addresses. Enter a name and a domain and they make sure it's real. They can find them on the web. They also provide scraped and pattern guessed emails but only count the verified ones.They give 20 free credits before signing up just to make the users understand how it works after that it has different pricing policies which one can opt for. To find the result users have to sign up and fill the payment details and get 20 free credits.
 Anymail Finder to quickly look up emails at any company. Click on the toolbar icon to initiate a search, and get your results in seconds. The icon changes color to give you a glance view on what emails we have at that domain. – Green means we are able to verify (and guess) emails at the current domain – Yellow means we have collected enough emails to guess new ones from a pattern – Blue means that we have collected some emails you can access with the "ALL EMAILS" option – Red means that we can't find any email on that domain.
Features
Find & verify emails with Anymail Finder API

Get emails directly and rapidly using simple rest API. One can easily look up by name, domain or verify existing emails.If you are building a new application, get in touch to get 500 free email credits so you can play with it.

Emails that won't bounce

Anymail Finder only charges for verified emails and delivery best quality email address.They use many approaches to find emails as it searches billions of web pages and performs direct server validation.

Find thousands of emails in bulk

Anymail Finder helps to find bulk emails with their bulk search functionality. One can process a huge list of names and domains in hours.Upload any .csv file containing domains and, optionally, names and get it back with emails added.
3) 
Email Extractor
Email Extractor help to find email addresses in seconds. It is a powerful extension for Chrome users. The extension automatically fetches valid email IDs from the web page, copy paste particular email ids you need or export all of them to a text or CSV file.  Automation tool can discover all email addresses for a specific domain name.
Example: if you want to discover email IDs of people working at Email Hunter, you can step the tool to search for any email address ending with hunter.io or emailhunter.io, this job can be done for any website. It has a feature of AutoSave and Automation. It is available as a Google Chrome Extension.
AutoSave allows storing all emails of the page that is been visited and store it in the cloud.Automation
Automation helps to visit up to 1.000 URL that has previously posted in extension.
https://www.youtube.com/watch?v=M-Gd8Yhg3y0
#4) 
VoilaNorbert
VoilaNorbert is one of the simpler—and better looking—email search interfaces on the web. All you need to do is enter a first and last name along with a domain name and hit the "Work for me, Norbert" button and you're off to the races. If you're looking for more powerful, enterprise-level email lookup tools, you can give VoilaNorbert's Massive Search tool a try.
With the full name of the person copy and paste his/her name directly into Voila Norbert.
Voila is a powerful tool that pings the mail host to find and confirm the correct corporate email address, so it has high accuracy.It's not rocket science either, simply conduct a search, and you'll be provided with the relevant email address.Once you sign up for a free account, you'll get 50 free leads to play with. It is available as a Google Chrome Extension.
Step 1 )

Is to Sign up to get first 50 credits free . By entering Name, Corporate Email Id and Password.
Step 2)

Next step is to Confirm the Email Address. Click on Let's do this, Norbert!
Step 3)

After Email is confirmed! We get free 50 credit. And click on Let's Start Searching Norbert.
Step 4)

After confirming the email. Type Person Name and Domain.com Search will show the result and details of the company also.
#5) Hunter.io
Hunter.io help to find the email address of the various business.Hunter works through massive amounts of data to create connections between professionals. They are Simple to work with and have open and transparent product. Hunter is available as a Google Chrome Extension.
google-chrome-extension-for-lead-sourcing, CCBot/2.0 (https://commoncrawl.org/faq/)
What can Hunter do?
Domain Search
List all the email addresses of a company publicly available on the web.
 The most common email pattern, like first.last@company.com.
Get the sources where an email address appears.
Additional data like the name, title, phone number or profiles on social networks to identify your targets.
Email Finder
Find the email address of anyone from the first name, last name and company website.
Make a database with email addresses and a confidence score.
You can also search for company names. If no domain names available.
Verify Email
Get the validity and deliverability of any email addresses.
A complete Email Verifier available. More than 95% of verified email addresses are deliverable.
Find where an email address appears publicly on the web.
Verify an entire list of email addresses.
Email Marketing is a powerful way to connect with people and very personal way of reaching your target customers. Thus, to get an in-depth understanding of Email Marketing, join our Email Marketing Course.
Photo Credits: Hunter.io, Anymail Finder, VoilaNorbert, Email Extractor, Clearbit Connect